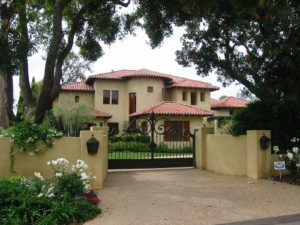 The California city of Camarillo, located in Ventura County, is nestled in a coastal valley 10 miles from the Pacific Ocean. The city is situated about 50 miles northwest of Los Angeles and 40 miles south of Santa Barbara. Running through Camarillo is U.S. Route 101 (also known as the Ventura Freeway), the city's principal thoroughfare. Camarillo is also easily accessible to California State Highways 126 and 1 (the Pacific Coast Highway). Nearby communities include Thousand Oaks (to the east) and Oxnard (to the west).
Founded in the mid-19th century by Adolfo and Juan Camarillo, owners of the Rancho Calleguas which comprised much of what is now the city, Camarillo owed much of its early development to the Southern Pacific railroad's choice of the site as the location for one of its depots. For several decades, development proceeded slowly but the advent of the Ventura Freeway, completed in the late 1950s, set the stage for an ensuing period of growth. In 1962, the 3M Corporation chose the city as the home of its Mincom and Magnetic Tape Divisions and in 1964, Camarillo became incorporated. The conversion of the naval operation at nearby Point Mugu to the Pacific Missile Test Center (now known as the Naval Air Warfare Center, Weapons Division) and the creation of associated civilian labs spurred employment and further growth. The city today is an attractive bedroom community combining easy proximity to nearby industry with a smog-free semi-rural living environment.
Camarillo Points of Interest
Camarillo's location almost halfway between Santa Barbara and Los Angeles puts visitors and residents close to a multitude of attractions within easy driving distance, as well as many places of interest within the city limits. The Camarillo Ranch, located just north of the Ventura Freeway, is home to the longtime residence of Adolfo Camarillo and his family. Built in 1892, the Camarillo Ranch House has been renovated and is now one of the city's premiere cultural, educational and event centers. The Pleasant Valley Historical Museum chronicles the history of Pleasant Valley and the Oxnard Plain, areas where many of the city's early pioneers settled before there was a City of Camarillo. The World War II Aviation Museum recounts WWII history and features renovated vintage aircraft, historical displays, and interactive exhibits. Some of the city's annual events include the Summer Concerts in the Park series, held at the Performing Arts Pavilion in Constitution Park; the Annual Greek Festival held every June at the Camarillo Airport; the Camarillo Air Show, which takes place in August also at the Airport; and July's Camarillo Fiesta and Street Fair, a giant festival with food, rides and entertainment.