Discover Ojai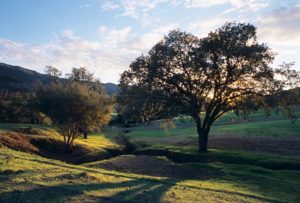 The geologic structure of the Ojai Valley is essential to the charm and the spiritual influence with which it affects those who live within its gentle confines.
The Ojai Valley is ten miles long and three miles wide. The unique atmosphere that impresses even the first time visitor is due to the transverse nature of the surrounding mountains, they lie in an East/West configuration, whereas most of California's mountains run North/South.
The sun rising at one end of the valley and setting at the other provides the residents with lingering morning and evening sun, and some of the most spectacular sunrises and sunsets available anywhere.
When conditions are right (nearly all of the time) everyone in the valley stands transfixed for several moments at sunset watching the surrounding mountains turn a brilliant shade of rose. It has even been given a name, "The pink moment".