About Area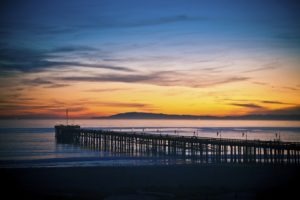 Welcome to the City of Ventura, one of America's most livable communities. We're located between Malibu and Santa Barbara on the blue Pacific Ocean, overlooking Anacapa and Santa Cruz islands.
People have lived along this stretch of the California coast for at least ten thousand years. San Buenaventura was founded in 1782 by Father Junipero Serra, the ninth of the California missions. He named it after the Italian St. Bonaventure, hence the nickname that Ventura is the "city of good fortune."
The City of San Buenaventura was incorporated in 1866. The minutes of the first City Council meetings were recorded in Spanish, which was still the pre-dominant language of its time. Ventura became the County seat when Santa Barbara and Ventura Counties split in 1873. That same year, a courthouse and wharf were built, a bank was opened and the first public library was created.
An oil strike in 1914 fueled rapid growth. In the years following World War II, farmland gave way to outward suburban development. Growth has slowed in recent decades as Ventura has matured into a seaside community known for its scenic coastline and hillsides, rich culture, revitalized historic Downtown and environmental stewardship.